Supporting Law Enforcement Made Simple with AmazonSmile
AmazonSmile is a simple way to support your favorite charitable organization. A separate portal from Amazon's main site, AmazonSmile offers the same items, prices, and benefits as Amazon.com, with one distinct benefit: when you shop on AmazonSmile, the online retailer contributes 0.5% of the price of eligible purchases to the nonprofit of your choice.
Every little bit adds up! 
Read more to learn how to get set up with AmazonSmile and start supporting your favorite charity this holiday season!
How to Set up AmazonSmile
With AmazonSmile, doing good in your everyday life couldn't be any easier. Just follow these two simple steps to get started!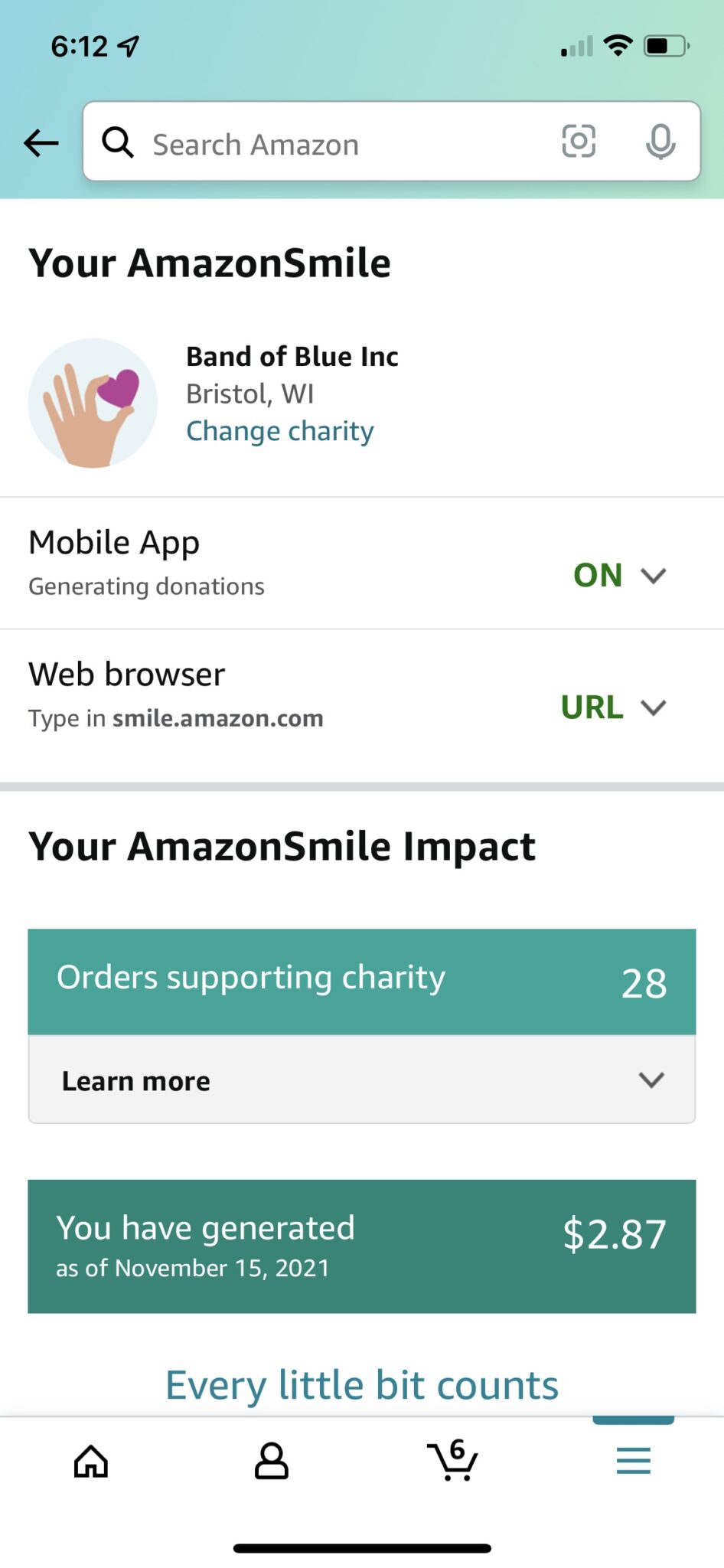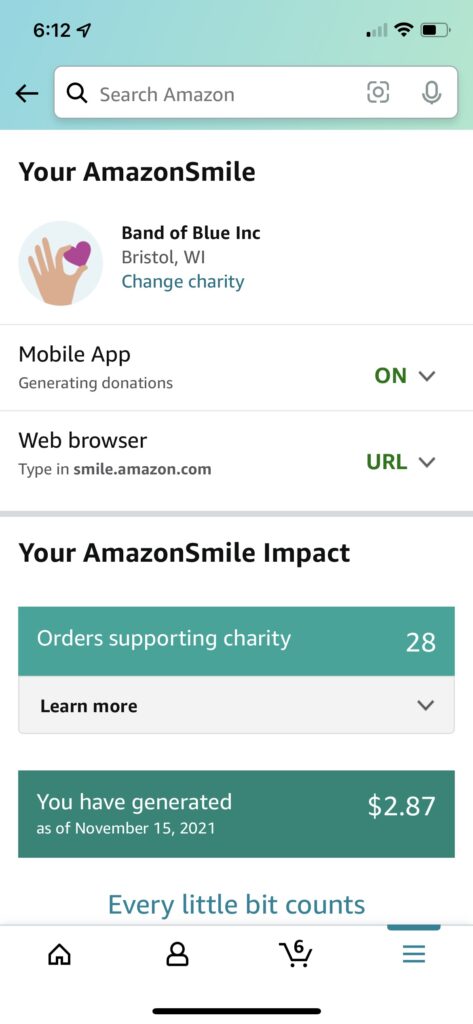 1. Sign in to AmazonSmile
Visit smile.amazon.com or access AmazonSmile in your Amazon app and click "Get Started." If you already have a basic Amazon account, you will be prompted to sign in. If you do not have an Amazon account, you will need to set one up.
2. Choose your Charity
There are over one million 501(c)(3) charities to choose from on AmazonSmile! Once signed in, you can select your charity from the list provided, or type in another of your choosing.
Once you select your charity, you're good to go! For future visits, AmazonSmile will remember your charity and apply a
percentage from eligible purchases toward your contribution.
Frequently Asked Questions
1. How do I access AmazonSmile in my Amazon app?
Great question! Simply open your app and click on the three horizontal lines in the bottom right corner. This will pull up a grid of shopping categories. Scroll past this and click on "Settings" underneath. About halfway down, you will see AmazonSmile. Click on it and ensure your mobile app donations are turned on. And you're all set!
Note: In order to turn on your donations, your Amazon notifications must be enabled. You will need to renew your AmazonSmile selection (at no cost) every six months.
2. Will I still get my Amazon Prime benefits if I shop through AmazonSmile?
Yes! If you are already an Amazon Prime member, all Prime benefits will be available at AmazonSmile.
3. Can I change my selected charity?
You can change the charity you want to support at any time. Simply revisit your AmazonSmile account and select a new charity from the dropdown list. If you make a change, only AmazonSmile purchases made after the change will accrue donations for your newly selected nonprofit.
4. How do I know if my purchase qualifies for AmazonSmile?
On AmazonSmile, there are millions of items for sale. Most, though not all, are eligible for a donation. When you purchase an eligible item, the AmazonSmile Foundation will donate 0.5% of the purchase price to your selected charity. The purchase price does not include shipping and handling, taxes, or other fees.
Look for the "Eligible for AmazonSmile donation" stamp in the item's description. If it is not there, the product will not count toward your total donation.
Note: Returned items as well as "Subscribe and Save" purchases are not eligible.
5. Are prices higher on AmazonSmile?
Not a penny more! With AmazonSmile, you can shop the same products at the same prices as your normal Amazon account. The only difference is that you're making a difference.
6. Are AmazonSmile donations tax deductible?
Because the AmazonSmile Foundation makes the contributions, they are not tax-deductible by the consumer. The flipside, however, is these donations come at no cost to you!
7. I am a charitable nonprofit. How do I register to receive donations from AmazonSmile?
In order to be eligible as an AmazonSmile organization, you must be a registered 501(c)(3) public charity in good standing with the IRS. If you meet that qualification, you can sign up on Amazon's Org Central page. Simply complete the form and submit all essential information. Once the AmazonSmile Foundation approves your account, you'll want to let all your friends and supporters know that you're ready to start receiving contributions!
Band of Blue on AmazonSmile
While AmazonSmile contributions are small, every little bit makes a difference. Its ease of use makes it a simple way for people to support their favorite charities at no out-of-pocket cost to them. Because the donations are rather small (though not unappreciated) it is encouraged that people use AmazonSmile to enhance, rather than replace, their charitable donations throughout the year. 
If you shop on Amazon and would like to support law enforcement, consider Band of Blue. Headquartered in Bristol, WI, we are a national organization made up of police officers, their families, and supporters. With your donations, we create transformative experiences for families of fallen officers. Read our stories of fallen officers to discover how we help families move forward after tragedy. 
Do you know someone who recently lost a loved one in the line of duty? Contact us today. We would love to get in touch.